---

(TAIPEI, TAIWAN,
03. 28, 2017)
New Mini-PCIe 1394b card MPX-2213 and New DP to LVDS adapter ADP-3460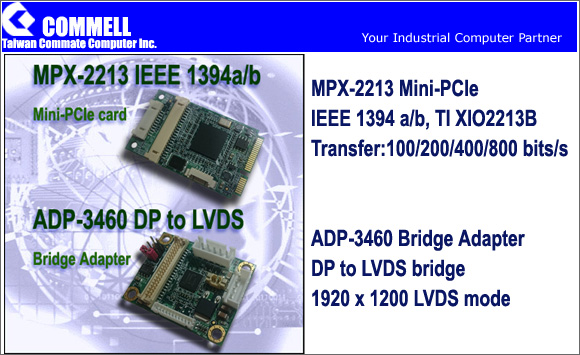 Taiwan Commate Computer Inc.(COMMELL), the worldwide leader of IPC, announced its new PCI Express mini card -- MPX-2213 IEEE 1394a/b card and new DP to LVDS bridge module ADP-3460 to meet the demand and application of system integrators.

The MPX-2213 PCI Express mini card is built XIO2213B controller, supports multiple IEEE1394(2 x IEEE 1394b and 1 x 1394a specifications), The XIO2213 is a PCIe to PCI translation bridge, where the PCI interface is internally connected to a 1394b open host controller/link-layer controller with a 3-port 1394b PHY. The PCIe interface supports a x1 link operating at full 250 Mbit/s packet throughput in each direction simultaneously. Also, the bridge supports the advanced error reporting capability including ECRC as defined in the PCI Express Base Specification, Revision 1.1.

ADP-3460 DP to LVDS bridge Adapter based on PTN3460 IC. PTN3460 is an DisplayPort to LVDS bridge device that enables connectivity between an DisplayPort source and LVDS display panel. It processes the incoming DP stream, performs DP to LVDS protocol conversion and transmits processed stream in LVDS format.
About COMMELL
COMMELL is a leading supplier of Single Board Computers and focuses on developing the most advanced and reliable IPC products. In addition to promise our customers constantly stay ahead of this competitive business, we are always in search of disruptive & incremental sustaining innovation. We treat every of our customer as partner and provide the best services and total support. The combination of innovation, superior quality, and excellent services will ensure both Taiwan Commate Computer Inc., and our customers always have the competitive edge in the computer world.
For further information about COMMELL is available at http://www.commell.com.tw
Contact
Email: info@commell.com.tw ; Tel: 886-2-26963909 Fax: 886-2-26963911
Facebook: https://www.facebook.com/pages/Taiwan-Commate-Computer-Inc/547993955271899
Twitter: https://twitter.com/Taiwan_Commate
---