---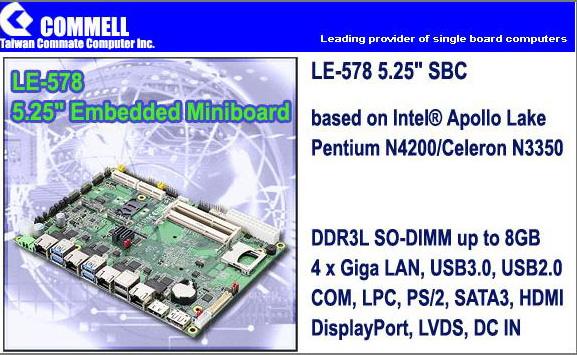 (TAIPEI, TAIWAN,
09. 22, 2017)
COMMELL has released 5.25" LE-578 Network computer based on Apollo-Lake processors
Taiwan Commate Computer Inc. (COMMELL), the worldwide leader of Industrial Single Board Computers, has released new embedded board LE-578 5.25-inch Network Computer with Intel® the latest low-power quad-core Pentium® processor, dual-core Celeron® processor or quad-core Atom® X Series (Code name Apollo Lake - are manufactured in 14nm technology and provide approximately 30 percent computing and 45 percent more graphics / video performance than their predecessors).
The LE-578 is equipped with Intel® Pentium® Quad-core N4200 up to 2.5GHz (TDP is 6W), Celeron® Dual-core N3350 up to 2.4GHz (which TDP just 6W), These embedded miniboards support DDR3L memory up to 8GB, These platforms are based on Intel®`s Gen 9 Graphics, which supports for 4k graphics resolution. Up to three independent displays can be operated simultaneously, and DirectX 1.2, OpenGL 4.2 are supported. that provides high-end media and graphics capabilities with up to three independent displays to support LVDS, HDMI and one DP port (or DP to VGA, or DP to LVDS). These embedded boards are fully passively cooled, silent and efficient that will help embedded vendors to design more compact systems with even more processing power. These embedded miniboard is excellent for Network Computer, medical equipment, IoT gateway, in-vehicle computing, industrial and office automation, imaging, machine vision and digital signage applications.
LE-578 network computer equipped with 4 x Intel® I210-AT Gigabit Ethernet, The I210-AT enables 1000BASE-T implementations using an integrated PHY. It can be used for server system configurations such as rack mounted or pedestal servers, The I210-AT implements 4 receive queues and 4 transmit queues, where up to two queues are dedicated for stream reservation or priority, and up to three queues for strict priority.
LE-578 miniboard also offers lots of features including high-speed data transfer interfaces such as 4 x USB3.0 and 2 x SATAIII, and comes with 4 x RS232 and 2 x RS232/422/485, 4 x USB2.0, SMBUS, LPC, PS/2, Watchdog timer, GPIO, High Definition Audio, and 2 x PCIE Mini card socket, 1 x Sim slot, 1 x SD Card. The LE-578 DC input can be configured from 6V to 35V.
About COMMELL
COMMELL is a leading supplier of Single Board Computers and focuses on developing the most advanced and reliable IPC products. In addition to promise our customers constantly stay ahead of this competitive business, we are always in search of disruptive & incremental sustaining innovation. We treat every of our customer as partner and provide the best services and total support. The combination of innovation, superior quality, and excellent services will ensure both Taiwan Commate Computer Inc., and our customers always have the competitive edge in the computer world.
For further information about COMMELL is available at http://www.commell.com.tw
Contact
Email: info@commell.com.tw ; Tel: 886-2-26963909
Facebook: https://www.facebook.com/pages/Taiwan-Commate-Computer-Inc/547993955271899
Twitter: https://twitter.com/Taiwan_Commate
---