---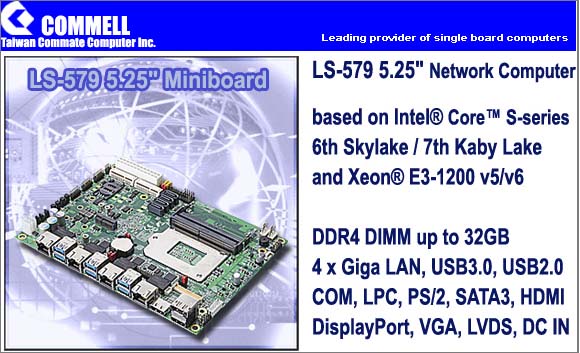 (TAIPEI, TAIWAN,
11. 22, 2017)
COMMELL unveiled 5.25" LS-579 based on 6/7th Core Computers & Xeon Workstations
Taiwan Commate Computer Inc.(COMMELL), the worldwide leader of Industrial Single Board Computers, unveiled LS-579 5.25" Network Computer/Workstation based on Intel® 6th/7th generation FCLGA1151 "Skylake" /"Kaby Lake" Core™ processor family and Xeon® E3-1200 v5/v6 processor. The "Skylake" PC is claimed to deliver 30 percent better performance than a PC base on Ivy Bridge architecture, 20 percent better performance than a PC based on "Haswell", and 10 percent better performance than a "Broadwell" PC. Kaby Lake's more advanced architecture should deliver improved performance in at least some workloads. Intel Xeon processor E3-1200 v5/v6 product family-based platforms offer fast access to data, protect the data's integrity, and have proven reliability for a range of business needs. . With Intel Xeon processor E3-1200 v5/v6 product family-based workstations, you'll find the capabilities that get designers, engineers, and animators started.
The LS-579 5.25" Network Computers/Workstations platform with Intel® C236 chipset is designed for the 6th/7th generation Intel® Core™ S-series processors and Xeon® E3-1200 v5/v6 processor in the FCLGA1151 socket. It is the first mainstream Intel® desktop platform to support DDR4 memory DIMM 1866/2133 MHz up to 32GB, The platform is based on Intel® HD530(Skylake)HD630(Kaby lake) and HD P530(Xeon E3-1200v5) Graphics, this Skylake GPU offers 24 execution units (EUs) clocked at up to 1150Mhz(depending on the CPU model), The revised video engine now decodes H.265/HEVC completely in hardware and thereby much more efficiently than before, and HD Graphics 630 GPU is largely identical to the 530 found in Skylake, The only real upgrade here is the HEVC and VP9 support. LS-579 Displays can be connected via 1 VGA, 1 LVDS, 2 HDMI and one DP port, up to three displays can be controlled simultaneously.
LS-579 equipped with 4 Gigabit Ethernet LAN(3 x Intel® I210-AT Gigabit Ethernet and 1 x Intel® I219-LM Giga bit PHY LAN), The I210-AT enables 1000BASE-T implementations using an integrated PHY. It can be used for server system configurations such as rack mounted or pedestal servers, The I210-AT implements 4 receive queues and 4 transmit queues, where up to two queues are dedicated for stream reservation or priority, and up to three queues for strict priority.
LS-579 offers lots of features including high-speed data transfer interfaces such as 6 x USB3.0 and 4 x SATAIII, and comes with PS/2 port, 4 x RS232 and 2 x RS232/422/485, 4 x USB2.0, Audio, 2 x M.2(Key M) for PCIe NVMe and 2 x M.2(Key E) for Wi-Fi and Bluetooth, 2 x MiniPCIe socket(Support mSATA), 1 x Sim slot, 9~35V DC input or Standard 24-pin ATX P/S.
About COMMELL
COMMELL is a leading supplier of Single Board Computers and focuses on developing the most advanced and reliable IPC products. In addition to promise our customers constantly stay ahead of this competitive business, we are always in search of disruptive & incremental sustaining innovation. We treat every of our customer as partner and provide the best services and total support. The combination of innovation, superior quality, and excellent services will ensure both Taiwan Commate Computer Inc., and our customers always have the competitive edge in the computer world.
For further information about COMMELL is available at http://www.commell.com.tw
Contact
Email: info@commell.com.tw ; Tel: 886-2-26963909
Facebook: https://www.facebook.com/pages/Taiwan-Commate-Computer-Inc/547993955271899
Twitter: https://twitter.com/Taiwan_Commate
---