TAIPEI, TAIWAN, 08. 10, 2018
COMMELL announces Mini-ITX LV-67X with the 8th Gen. Core processors
---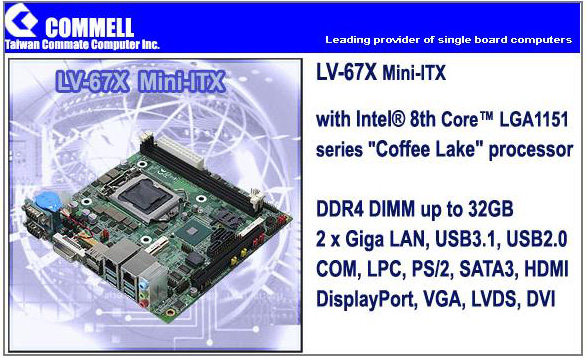 Taiwan Commate Computer Inc.(COMMELL), the worldwide leader of Industrial Single Board Computers, unveiled LV-67X Mini-ITX platform based on Intel® 8th generation FCLGA1151 "Coffee Lake" Core™ processor family. The 8th Gen. Intel® Core™ processors redefine mainstream desktop PC performance with up to six cores for more processing power - that's two more cores than the previous generation processor family, Coffee Lake's Turbo Boost Technology 2.0 can increase the maximum turbo frequency up to 4.7 GHz, and up to 12MB of cache memory. These processors offer even greater CPU and graphics performance as compared to previous generations, provides you the opportunity to tweak the platform performance to its fullest potential and enjoy great gaming and VR experiences.
The LV-67X Mini-ITX platform with Intel® Q370 chipset is designed for the 8th generation Intel® Core™ processors, Celeron® and Pentium® processors in the FCLGA1151 socket. It is the first mainstream Intel® desktop platform to support DDR4 memory DIMM 2666 MHz up to 32GB, The platform is based on Intel® 9th generation Graphics engine, it offers fast video acceleration, three independent 4K Ultra HD displays and extensive media codec library. LV-67X Displays can be connected via 1x VGA, 1 x LVDS, 1 x HDMI, 1 x DVI and one DP port, up to three displays can be controlled simultaneously. The LV-67X is ideally for performance-demanding applications such as video gaming, virtual reality, digital signage, medical and more....
LV-67X equipped with 2 Gigabit Ethernet LAN(1 x Intel® I210-AT Gigabit Ethernet and 1 x Intel® I219-LM Giga bit PHY LAN), The I210-AT enables 1000BASE-T implementations using an integrated PHY. In addition, LV-67X offers lots of features including high-speed data transfer interfaces such as 6 x USB3.1 GEN2 (10Gb/s) and 3 x SATAIII, and comes with PS/2 port, 4 x RS232 and 2 x RS232/422/485, 4 x USB2.0, High Definition Audio, 1 x MiniPCIe socket(Support mSATA), 1 x Half size MiniPCIe, 1 x Sim slot, 1 x PCIe X16 slot.
About COMMELL
COMMELL is a leading supplier of Single Board Computers and focuses on developing the most advanced and reliable IPC products. In addition to promise our customers constantly stay ahead of this competitive business, we are always in search of disruptive & incremental sustaining innovation. We treat every of our customer as partner and provide the best services and total support. The combination of innovation, superior quality, and excellent services will ensure both Taiwan Commate Computer Inc., and our customers always have the competitive edge in the computer world.
For further information about COMMELL is available at http://www.commell.com.tw
Contact
Email: info@commell.com.tw ; Tel: 886-2-26963909
Facebook: https://www.facebook.com/pages/Taiwan-Commate-Computer-Inc/547993955271899
Twitter: https://twitter.com/Taiwan_Commate
---