TAIPEI, TAIWAN, 09. 12, 2019
COMMELL unveiled Pico-ITX LP-178 based on Whiskey Lake-U processors
---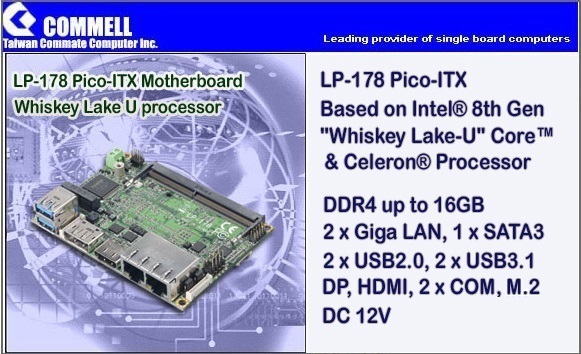 Taiwan Commate Computer Inc.(COMMELL), the worldwide leader of Industrial Single Board Computers, unveiled LP-178 Pico-ITX based on Intel® 8th Gen. FCBGA1528 "Whiskey Lake". The "Whiskey" PC is claimed to deliver better performance than a PC base on previous embedded U-series processors- enabled by 4 instead of 2 cores plus an overall improved micro architecture. The 8th Gen. Core™ i7 U-series Mobile processor for IoT applications are feature rich delivering high performance per watt.
The COMMELL LP-178 platform provides excellent CPU, graphics, media performance, flexibility, and enhanced security, is ideally suited to applications requiring multi-tasking capabilities, such as gaming, surveillance, medical, defense, transportation and industrial automation application.

The LP-178 Pico-ITX is designed for the 8th generation Intel® Core™ i7-8665UE and Celeron® 4305UE processors. The Core™ i7 part has a 1.7GHz base clock with 8MB cache and a 4.4GHz max turbo frequency, and the Celeron® part has a 2.0GHz base clock with 2MB cache, both of them offer long-life availability. The LP-178 features one DDR4-2400 SO-DIMM slot for up to 16GB of memory(Celeron® 4305UE up to DDR4-2133 16GB). The platform is based on Intel® Generation 9.5 HD Graphics GPU, Displays can be connected via 1 LVDS from ADP-3460 module, 1 HDMI and one DP port onboard, up to three displays can be controlled simultaneously.
LP-178 offers lots of features including high-speed data transfer interfaces such as 2 x USB3.1 and 1 x SATAIII, equipped with dual Gigabit Ethernet ( 1 x Intel® I219-LM Gigabit PHY LAN with iAMT 12.0 supported and 1 x Intel® I210-AT Gigabit LAN), and comes with 2 x RS232, 2 x USB2.0, Intel® High Definition Audio, 1 M.2 Key E for Wi-Fi and Bluetooth, 12V DC input.

About COMMELL
COMMELL is a leading supplier of Single Board Computers and focuses on developing the most advanced and reliable IPC products. In addition to promise our customers constantly stay ahead of this competitive business, we are always in search of disruptive & incremental sustaining innovation. We treat every of our customer as partner and provide the best services and total support. The combination of innovation, superior quality, and excellent services will ensure both Taiwan Commate Computer Inc., and our customers always have the competitive edge in the computer world.
For further information about COMMELL is available at http://www.commell.com.tw
Contact
Email: info@commell.com.tw ; Tel: 886-2-26963909
Facebook: https://www.facebook.com/pages/Taiwan-Commate-Computer-Inc/547993955271899
Twitter: https://twitter.com/Taiwan_Commate
---