TAIPEI, TAIWAN, 07. 31, 2020
COMMELL unveiled MPX-225 Mini_PCIe 2.5GbE LAN module
---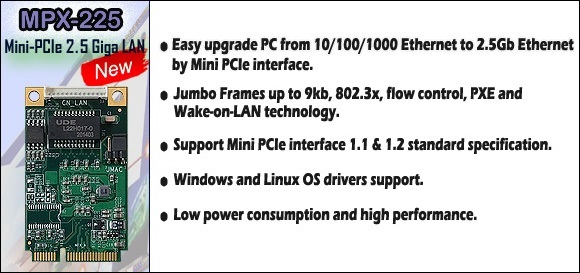 Taiwan Commate Computer Inc.(COMMELL), the worldwide leader of IPC, announced a Mini_PCIe 2.5GbE LAN module (MPX-225).

MPX-225 IEEE* 802.3* Mini_PCIe module is the 2.5 Gigabit Ethernet solution. It enables a high performance, cost effective, low power connectivity for high bandwidth PC desktops, workstations and servers. Support IEEE 802.3u auto-negotiation, Jumbo Frames up to 9kb, 802.3x flow control and Wake-on-LAN technology.

MPX-225 with long life support and supply (15 years), Compliant with the standard IEEE 802.3 Ethernet interface for 2500BASE-T, 1000BASE-T, 100BASE-TX, and 10BASE-Te applications (802.3, 802.3u, and 802.3ab) increases 250% data rate than Gigabit Ethernet with universal copper cabling type CAT5e support up to 100 meters that easy for upgrade the existing PC to 2.5 GbE networking system.

More information about MPX-225, please refer to below:
http://www.commell.com.tw/Product/Peripheral/PCI%20Express%20mini%20card/MPX-225.htm

About COMMELL
COMMELL is a leading supplier of Single Board Computers and focuses on developing the most advanced and reliable IPC products. In addition to promise our customers constantly stay ahead of this competitive business, we are always in search of disruptive & incremental sustaining innovation. We treat every of our customer as partner and provide the best services and total support. The combination of innovation, superior quality, and excellent services will ensure both Taiwan Commate Computer Inc., and our customers always have the competitive edge in the computer world.
For further information about COMMELL is available at http://www.commell.com.tw
Contact
Email: info@commell.com.tw ; Tel: 886-2-26963909
Facebook: https://www.facebook.com/pages/Taiwan-Commate-Computer-Inc/547993955271899
Twitter: https://twitter.com/Taiwan_Commate
¡@
¡@
¡@
---
¡@
¡@