Introduce to SCode Video
---
SCode Video Surveillance System is a highly professional video surveillance application. In the last few years, digital video recorders (DVR's) became widely accepted by the market and customers want to have the capability of video surveillance over network. Many security equipment providers moved their focus to this new trend but could not achieve to offer modern requirements like:
■ Low video data rate to accommodate bandwidths
■ Strong and flexible networking structure
■ High transparency in networking
■ Easy access to remote DVR's
■ Remote monitor and control capability
■ Full functions to support modern DVR applications
SCode offers the state of the art solutions that solved the above issues by using its advanced image technology and networking structure design. A SCode system consists basically out of 5 units:
■ SCode DVR station
■ SCode Hybrid DVR station
■ SCode Client station
■ SCode Server station
■ SCode Central Server station
SCode DVR Stations will offer the proprietary image technology, MPEG4 or H.264, to get a very high compression rate. It is not only to extend the HDD storage time but also reduces the communication bandwidth. A unique triple video stream structure of the hardware DVR is provided to enhance the remote video transmission capability.

SCode Server Station has a unique multi-server and Central-Server structure. This station has no limitation of connected DVR's and solves virtual IP or floating IP problems. From any location in the world, observers can cross over to different networks.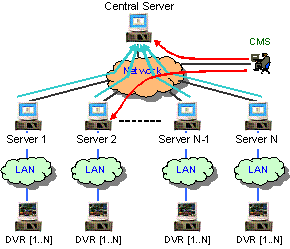 Security planners can assign SCode DVR's to different sub-groups controlled by different SCode Servers and be managed by the SCode Central Server. Each group will be working as an independent security network system. Remote observers can access these sub-groups individually or simultaneously. This networking structure uses the bandwidth in an efficient manner and highly improves the networking stability.
Using the Central-server structure, remote observers can access any server and get all the system network information in one link status table providing quick and simple remote monitoring operations.
SCode Client Station is a remote monitor and control station. This station can stand at static/floating IP, physical/ virtual IP, or domain name. The user can view 1~64 different cameras at the same time from different SCode DVR's that are located inside the network of different servers by only one-touch operation. At the same time the remote user can listen to the sound captured by the DVR. The transmission speed of each camera is adjustable to save the communication bandwidth. When an alarm event occurs at a remote DVR, it can send live video to appointed client stations with a pop-up image window and sound an alarm. Other important remote control functions, like: remote file download, remote system record retrieve, remote equipment information check, remote system setup, remote user management, remote image quality adjustment, remote video signal adjustment, remote PTZ control, remote device information check, and remote alarm playback etc., are also provided.
---